Technology Committee Mission Statement- "To foster growth of the technology industry in Hernando County."
Are you interested in becoming part of a dynamic and energetic group of business professionals interested in building the technology industry in Hernando County? The Greater Hernando County Chamber of Commerce invites you to join our Technology Committee!
The committee serves to provide a forum for innovative and dedicated professionals to share their ideas about technology and the development of Hernando County's technology infrastructure.
If technology is your passion, please plan on attending this meeting! This is an open committee. You do not have to be a Chamber member to be involved!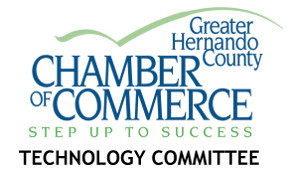 JOIN OUR NEXT MEETING!
2nd Thursday of each month
8:00 - 9:00am
For more info call Chamber Office (352) 796-0697, or info@hernandochamber.com